Two of Surrey's young sports volunteers received the ultimate reward for their efforts...
20 July 2004
Two of Surrey's young sports volunteers received the ultimate reward for their efforts by getting the chance to mix with sporting stars at Downing Street on Monday 19th July.
13 year-old Sean Edwards from Fleet / Surbiton Hockey Club, and 17 year old Anthony Penny from Cobham / Effingham & Leatherhead Rugby Football Club, were selected to represent Surrey at the Prime Minister's star-studded reception to celebrate excellence in sport.
As well as meeting Tony & Cherie Blair, Sean and Anthony met a host of other big names from English sport including football boss Sven-Goran Eriksson, Cricket Captain Michael Vaughan, boxing personality Chris Eubank, and snooker legend Ronnie O'Sullivan, to name just a few.
The youngsters were selected to best represent the fantastic work that occurs across Surrey to help new volunteers get into coaching and officiating.  Sean & Anthony were among 330 youngsters who gained their first qualifications in coaching and officiating through Surrey Sports Partnership's Young Coaches & Officials (SYCO) Programme this year.  Upon qualification, the youngsters are offered volunteer placements at quality local clubs and events such as the BAA Gatwick Surrey Youth Games, gaining bronze, silver or gold certificates based on the hours they put in.
Since Sean passed his Foundation Hockey Umpires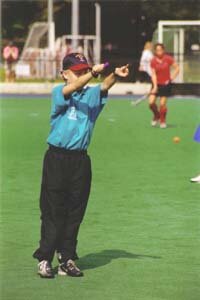 Award he has been umpiring youth and adult matches and has already won Official of the (Surrey Youth) Games 2003 and Most Promising Young Umpire at the 2004 National Youth Finals; Anthony has volunteered nearly 100 hours of his time to help at Richmond Women's Rugby Club since attaining his Community Rugby Leaders Award and received a mention in the 2004 RFUW National Cup Final Programme for the help he had given.
Tony and Sven were impressed with their commitment and Campbell Livingston, Club & Coach Development Officer at the Surrey Sports Partnership, added, "Anyone that has ever volunteered knows the rewards it can bring in terms of personal feel-good factor when you know you're making a difference, but rewards like the reception don't come along often!  These two young men are great examples of what can happen if you put a bit of effort in for others and we hope that even more people can get involved next year".
The 2004/05 SYCO Programme is already being planned and full details will be sent to all clubs, schools and colleges in September.  Further details about SYCO are available now on the website www.activesurrey.com.